Please join us in our new home, 4CELNK.com. It's our new location for all things Force Link! We're proud to introduce a whole new set of No Tool, No Waste 4CELNK-YR cable management products for flat surfaces, wire shelving racks, EMT conduit. We even have a way-cool kit for you Obutto-rig gamers out there: The 4CELNK-YR OR3V series is specially made for fixing that cable-management issue on your tubular rigs.
For a little while, there will be two places with information on the LFE brackets. The older site, below, has the full information. The new 4CELNK.com site has (as of early August 2018) information on the much-larger 4CELNK-YR product line, as well as purchase information for the LFE brackets. We'll get there….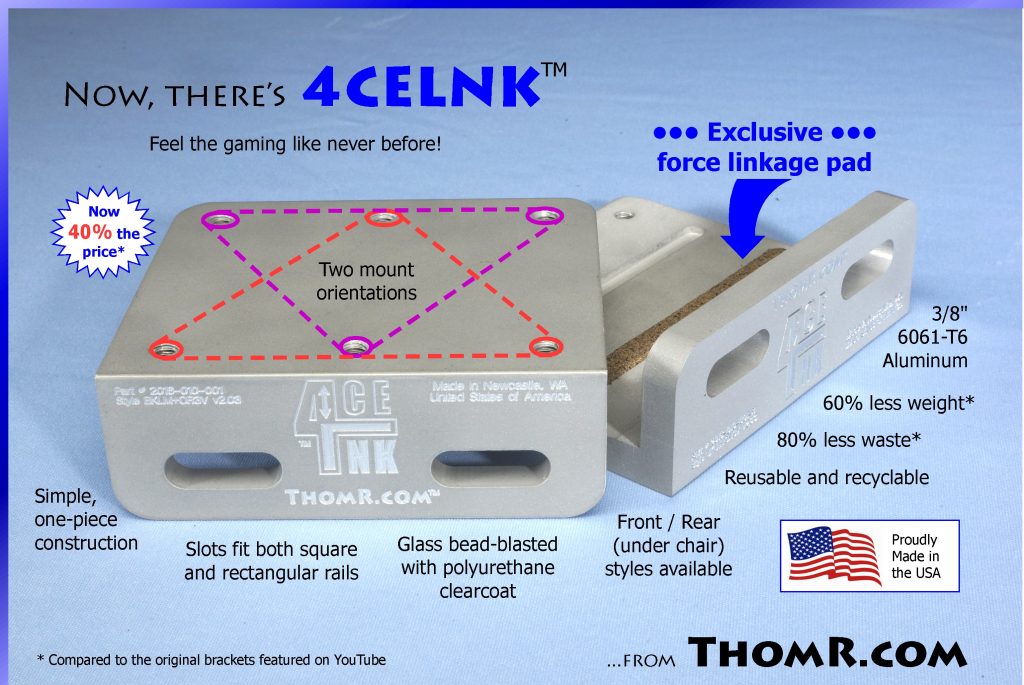 You've come to the right place. ThomR.com is the originator, designer, fabricator and everything else for the 4CELNK brackets. If you're into gaming, and looking to upgrade your Obutto™ R3volution™ rig with some sweet ButtKicker™ mini LFEs, these brackets are what you need. Compared to the ones we made in the YouTube video, they're half the weight, and a third the price.
At ThomR.com, we build things that help you achieve your vision. Our tools are among the most useful and safest available. They're hand- and machine-made right here in the United States.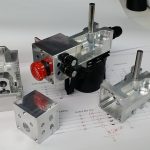 Exciting times are coming, so be sure to check back often! If you're interested staying up on new ThomR.com products, you can of course contact me directly.
For more, keep up with this post.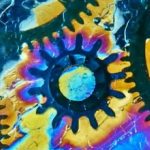 Inspired to look closer, see more deeply, and find what goes unnoticed by others, I developed a specialized technical photographic style. Marked by vibrant pastels and deep colors with rich internal structure, my photos are unlike any you'll see elsewhere.
For more images, be sure to check this post.
Quite regularly, people ask for help realizing their designs, or help getting something done that's just out of their reach (tools are expensive, but knowledge is priceless!)
A selection of some projects you might find interesting is in this post. At left is the main plate for ball bearing rollers for a BBQ spit. A fun little project.
For the most part, I can make more of these if you're interested, so feel free to contact me by email at thom@thomr.com.
ThomR.com is something I've been contemplating for about 5 years now. It's not a huge corporation, it's just me giving back to the world, offering for sale things that people have said they wanted.
For more of the things I've done and worked on, check this post.
For the various ways to contact, share and follow, check this post.