Buttkicker mini LFE / Obutto R3volution brackets
Here's a recent example where Barnacules Nerdgasm, a YouTube hero, needed some brackets made for his car-racing simulator system. We custom-designed and machined these out of aluminum, making some ultra-sturdy brackets, with some cool, custom engraving, and then we put together a cool video showing how it all came together. If you're interested in a set, these don't come cheap, but they are really cool, and will rock the house!
If you're interested in a set, or you want ones that fit the 80/20 extrusions used in 4PlayRacing sim frames, just drop me a note, thom@thomr.com.
Update: I've redesigned these to create the 4CELNK product. At 1/2 the weight, much simpler, fewer nuts-and-bolts needed, and at 1/3 the original price, there's finally an easy way to mount them. Check out all the details.
Custom computer heatsink mods
C.A. Grimes in southern Washington contacted me a while back with a problem he was having trouble solving. Being an avid gamer, high-performance graphics isn't just a goal, it's a necessity. Keeping all that cool, while avoiding the incessant fan noise, was his goal. The only problem was that the aftermarket heatsinks he got just didn't quite mate up with the Thermosphere liquid-cooling blocks. D'oh!
Nothing that couldn't be solved with a little custom machining, right? So, he shipped them up to me here near Seattle, and in with a bit of measuring and double-checking, I put them in my CNC machine, and moved metal so it all fit together.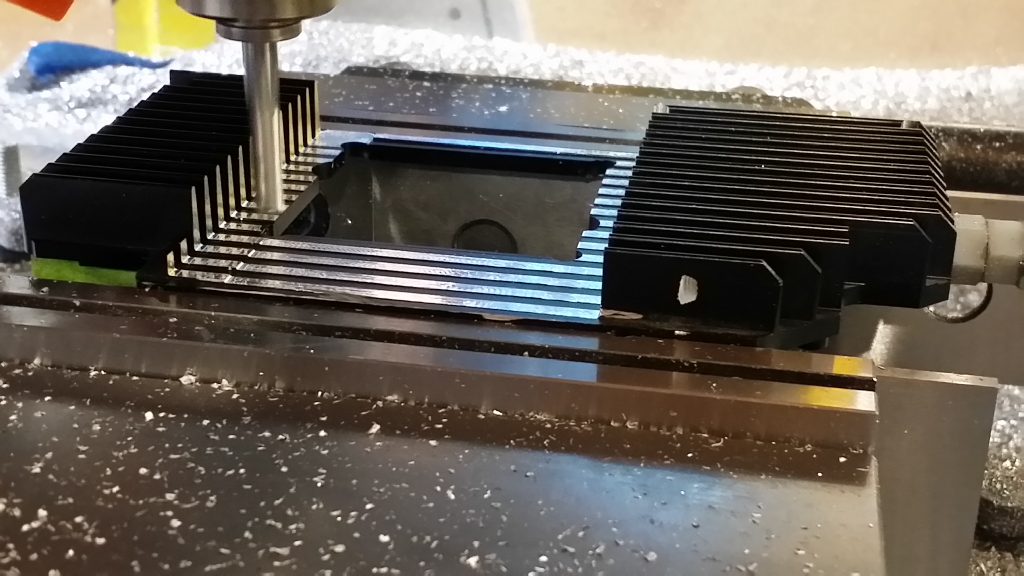 Again, if you're interested in having me make some cuts, and don't want to hire an entire machine shop ($$$!), then reach out: thom@thomr.com. I'm sure we can figure out something that works.
---
It's been a busy time since I last updated the projects portfolio. Just for reference and future updates, here is a list of the fun I've been having:
| Categories | Project Name | Comments |
| --- | --- | --- |
| S | Shark Talk Support forums | Helping others in a most bodacious way |
| S | PNWCNC Club | A bunch of good guys |
| 3 | TAZ 4 enclosure | Fun and cheap enclosure without the rigid and expensive acrylic |
| E | GCodeSplit and GCodeShim tools | GCode processing utilities |
| E | Part numbering / FQBI | Fully Qualified Build ID...what? |
| M, P | 4CELNK brackets | In 3 styles: Mini-LFE for Obutto; TST239s and BKLFEs for 80-20 rigs |
| F, M | Rifle cartridge engraving | A fun project in brass |
| M | LCD Balancing Mount | A quick little thang |
| M | Spindle Mount and new design | Will include the super-simple original mount plate |
| M, 3, E | PilotFish power control unit | The whole system, and she's a doozie! |
| F, M | My Tummy plaque | A fun engraving and epoxy mess-making project |
| 3, M, P | Laser Cooler Block | Time to accept it's not likely to achieve reality |
| E, M, P | Static control kit | So simple, yet so dumb NWA didn't think of it first. |
| F, M | BBQ Spit-rollers | |
| M, 3 | CNC work lighting | Under-spindle is the way to go |
| A | Artwork platform and results | All about the ice |
| E | CNC Mister / Spritzer | A little bit of automation and solenoids can make a big difference |
| E | Alarm and Surveillance system | a monstrously good project |
| E, A | Frankenlight and the black panel | How to view prints for REAL |
| M, A | Dragknife | A great idea brought down by the physics of inertia |
| M | Cabinet doors for the alarm system | custom welded, with machined cutting-board panels |
| M, A | Macro Photography Table | A welded thing before CNC....now? |
| M | Custom heatsinks | ...wait...didn't I already do this one? |
| E | CNC Computer architecture | Not your normal setup |
Cheers!